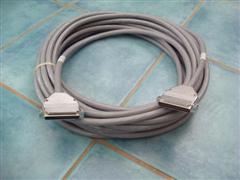 19 pair MWP (Belden®) multicore signal cable, 24 AWG
I have a number of these cable assemblies available in lengths of 50 or 30 feet. The cables are NOS, of US manufacture, professionally made and were used to push video signals and 12v power from the feature connector of a standard PCI video card to a remote display panel.
Each end of the cable is terminated with a D37 connector, Male<->Female, with all pins wired straight-through, plus frame ground on the foil-wrap shield drain wire. All pairs are twisted. Each pair has a keeper installed within the connector so it is possible to identify the pair pin-outs if necessary. Note that the 'D' shells are metal - NOT metalised plastic.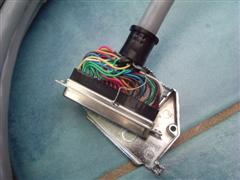 The cables are extensible by the addition of a second cable onto the mating free end. Joining spacer-nuts provided.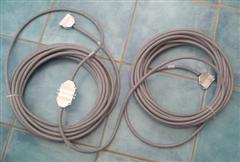 Mating solder-bucket or IDC connectors are easily obtained from Maplin, Farnel, RS, Rapid, etc..
The legend on the cable reads: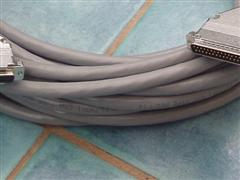 < MANHATTAN/CDT P/N M3189 24 AWG TYPE CM OR DP-2 300V (UL) 75C E120910-D OR AWM 2464 -- LL79301 CSA TYPE PCC FT4 >
These are high quality cables, 24 AWG, 7/32 stranded, nominally half-inch diameter, flexible, easy to work with. The colour is 'Chrome Grey'. The OEM cost of this cable works out at just under US$3.00 per foot in 1000 ft coils!
Suit control/power cables for masthead transverters (probably enough pairs for full masthead/dish control - relay tell-back, LNA power, Az & El signals, etc).
Otherwise, Model Railway layouts, industrial process control, video applications, serial data applications.
Full cable specification can be read on the "Manhattan Wire Products" web site
Priced to clear at just £15.00 (50ft) and £10.00 (30ft) PLUS P&P (3.5 kilos)
[UK P&P via Royal Mail Parcels will cost £8.00 - Overseas costs by agreement. Multiple items' extra P&P charged at cost.]
Order form: