Directions

From route 15 just north of Monson, take Elliotsville Road. Continue to Big Wilson Stream, cross the bridge and bear left up the hill. Road becomes gravel, levels off and eventually descends to Long Pond Stream on the north side of Borestone Mountain. Do not cross the bridge at Long Pond Stream, but turn left immediately before it. Road (1.6 miles to AT crossing) driveable with 4WD in dry conditions.
Trail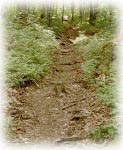 Appalachian Trail crosses Long Pond Stream (fixed rope to assist crossing at times of high water), then follows gorge to Slugundy Falls at 0.7 mile. Trail then bears right and begins ascending gradually through beautiful alternating hardwood and softwood forest, later becoming rocky and moderately steep at times.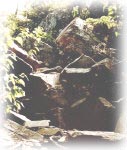 At 2.2 miles there is a very short side trail to Barren Slide, and shortly after that the main trail reaches Barren Ledges. Great views from the slide and ledges. 1.8 miles further to summit, much of it with little grade but becoming steep and rocky near the summit.