Directions

3.5 miles west of the Sugarloaf/USA entrance on route 27, find Stratton Brook Road. It is marked by a small wooden sign. 1.6 miles in on this road is the trailhead parking area. From here there are several ways to ascend to various peaks.
Trail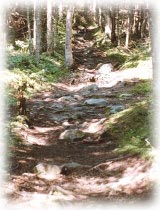 I chose to take Firewarden's Trail up into Bigelow col, since my objective was to bag the two 4000 foot peaks. Much of the trail is a pleasant hike through hardwood forest (must be very pretty during the fall foliage season). After passing Moosefalls campsite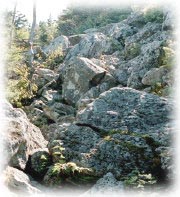 at 3.6 miles the trail becomes steeper and more rocky for the final ascent to Bigelow col (1 mile). It is very pretty in the col, with the forest floor being covered by lush green moss and other vegetation even after the summer drought. From the col it is 0.3 mile to Avery Peak or 0.4 mile to West Peak.