By September I was well on my way to completing all the Maine 4000 footers. On this particular outing my brother George would accompany me to the highest point in Maine, 5267 foot Baxter Peak. Until I get the story put together, here are some pictures from our trip. We ascended Hunt Trail on the southwest side of Katahdin, crossed the Table Land, over Baxter Peak, and descended Saddle Trail on the east side. It is aprroximately 11 miles with an elevation gain of 4000 feet.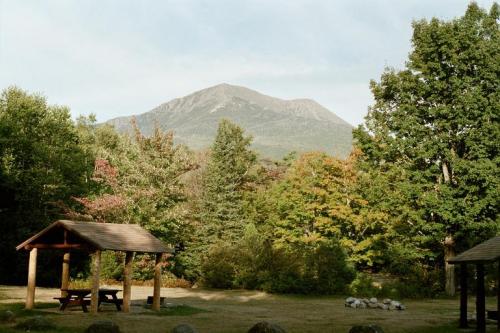 The view of Katahdin from Katahdin Stream campground. This view is looking right up Hunt Trail, our ascending route.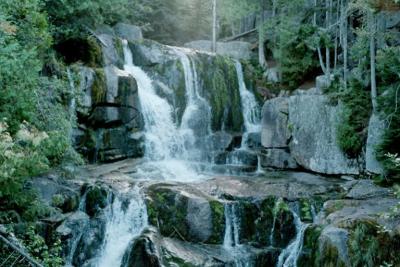 Gosh, it's scenic here. We're one mile into our trip and not yet gaining much elevation. This is Katahdin Stream Falls.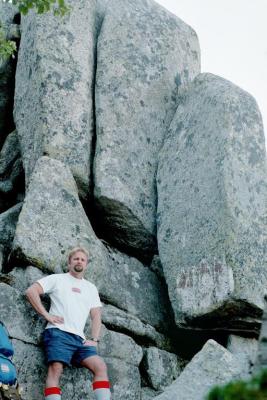 Hmm, plenty of rocks up here. Hey bro, what's holding that big one there on your left...? We're on Hunt Spur now, and approaching tree line.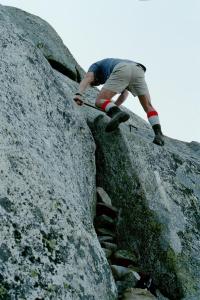 Is there no end to these rocks? George makes this look easy... uh, of course he's not the one carrying the pack with all our supplies...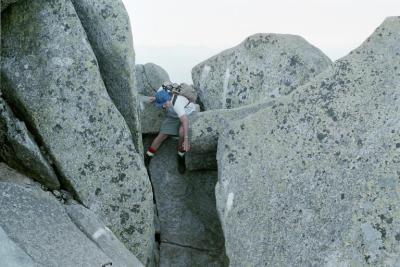 Hey, bro, wait for me! How'd you get through this crevass anyway? Looks awfully far down there to me...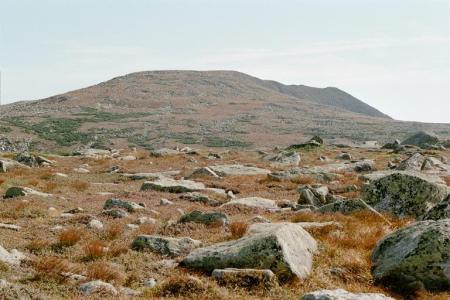 We're gonna make it! We've reached the Table Land, which means no more of that spur! That's Baxter Peak, right up there... of course it is still a mile away...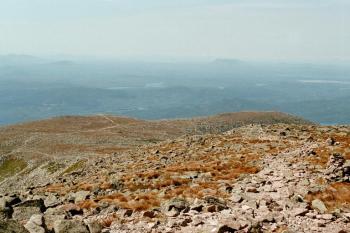 We did make it! This is the view looking out across the Table Land from Baxter Peak. Those meandering "lines" are trails. This was the way we came up, but it sure wasn't the way we were going to descend.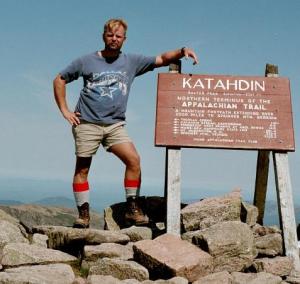 Whew, that was some morning, eh? George standing by the sign on Baxter Peak.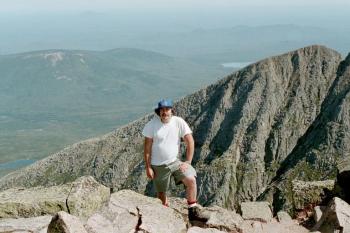 Whatever you do, don't take a step back! That's me at Baxter Peak, standing on the edge of the Great Basin. It's 2000 feet almost straight down back there...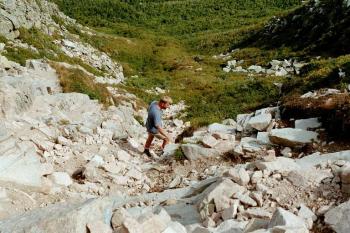 "For the record, going down this slide doesn't amuse me in the least!" George picks his way down the upper portion of Saddle Slide.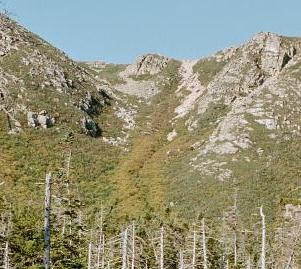 Huh, so we survived coming down that thing? Saddle Slide as seen from the trail below. The slide is that pinkish area just to the right of center in this photo. It's pink granite.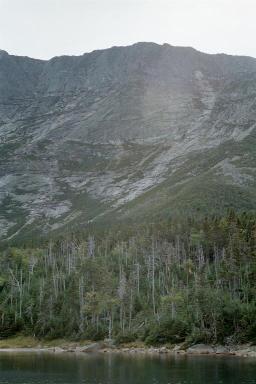 Impressive, isn't it? Chimney Pond in the foreground, the 2000 foot headwall of the Great Basin with Baxter Peak at the top.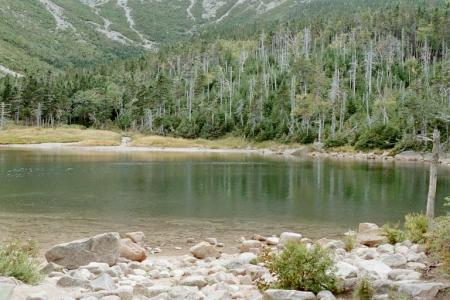 Hopefully this peaceful, beautiful scenery means we've survived our trip? We've left the rugged terrain behind, but it's 3.3 miles from Chimney Pond to Roaring Brook campground where the truck is.