Directions for AT approach

One mile west of the Sugarloaf/USA entrance on route 27, turn left on Caribou Valley Road. It is 4.5 miles to the Appalachian Trail crossing. On the date of my visit, Caribou Valley Road was passable by passenger car with caution. There is a small parking area on the right near the AT crossing.
Trail

South bound AT (left off Caribou Valley Road) almost immediately crosses the South Branch of the Carabasset River. May be difficult in the Spring, but an easy crossing when the water is low. Trail then ascends through forest, gradually at first, then becoming steep and rocky as it climbs the wall of the ravine. This section is strenuous. Becomes much easier after this steep ascent, with portions of the trail running along the rim of the ravine offering great views of Caribou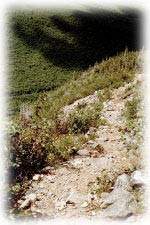 Valley and mountains on the other side (Redington, Crocker). Trail then winds through forest to a junction; AT bears right, blue blazed side trail to Sugarloaf summit goes left. It is 1/2 mile to the summit from this point. Total distance from Caribou Valley Road to summit about 3 miles.

Alternate routes

Hiking trail from Sugarloaf/USA ski area. Tote road (also from Sugarloaf/USA).